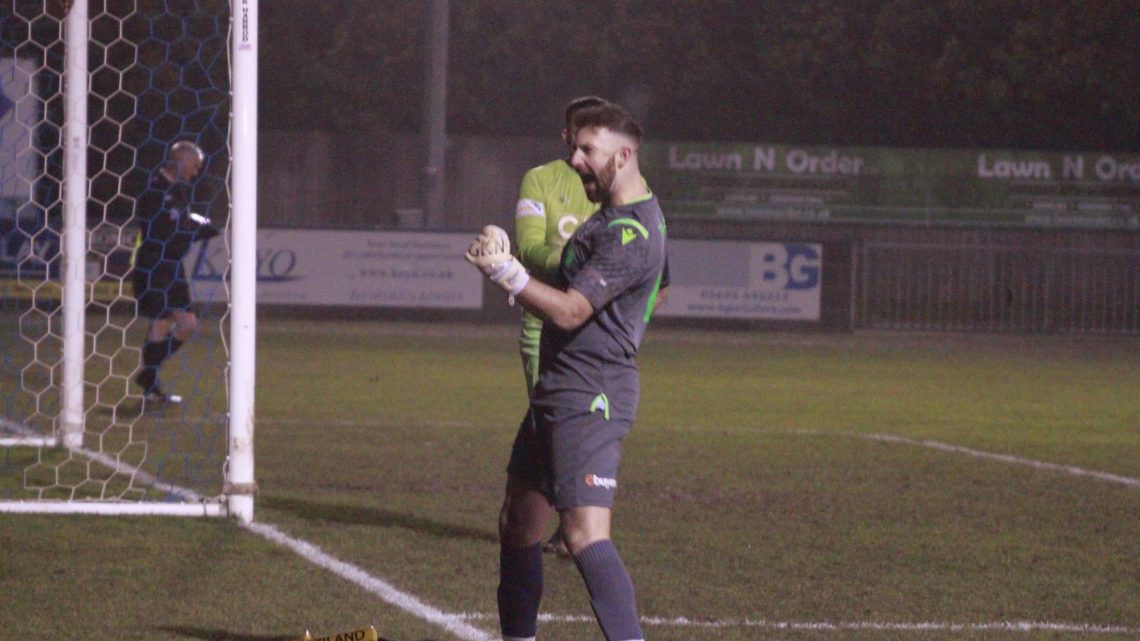 Swans defeat AFC Mansfield in penalty shootout in League Cup
26th January 2022
Barton Town
1-1
(4-2 on pens)
AFC Mansfield
Bateson 2
Att: 180
Greenham 28
Mike Emery was the hero for the Swans, saving two penalties and scoring the winner as Barton advance to the NCEL League Cup quarter finals after a penalty shootout win over AFC Mansfield.
Curtis Bateson scored early for the Swans before Klarke Greenham equalized for Mansfield. This set up a tense shootout which the Swans won 4-2.
| | |
| --- | --- |
| # | Player |
| 1 | Mike Emery ⭐ |
| 2 | Josh Lacey |
| 3 | Will Waudby |
| 4 | Harrison Coley |
| 5 | Tom Davie 🟡 |
| 6 | Taron Hare (c) |
| 7 | Tom Waudby |
| 8 | Jamie Goddard |
| 9 | Ben Hinchliffe |
| 10 | Mitchell Levi-Lewis 🔻Vasalo 67 |
| 11 | Curtis Bateson ⚽ |
| | |
| 14 | Kian Salter |
| 15 | Elliott Vasalo 🔺Levi-Lewis 67 |
| 17 | Danny North |
| 18 | Nathan Jarman |
It was a quick start for the Swans as a defensive error was capitalized on, with Bateson being played in. He ran in on goal and slotted past the goalkeeper to give Barton the early lead.
Tom Waudby had a couple of chances to double the lead, with a nice solo run and a curling shot from the edge of the area both resulting in shots going wide.
Mansfield grew into the game and a lapse in communication between the Swans defenders saw their attacker run on goal. Tom Davie brought him down on the edge of the area and went into the book.
Bateson then tested the goalkeeper again with a shot from distance. It was saved and out for a corner. The resulting corner saw the ball fall to Josh Lacey in the box. His shot was well saved by the feet of the keeper.
On the half-hour mark Mansfield equalized. Greenham ran in on goal and hit his shot low past Emery at the near post to put the visitors back in it.
Levi-Lewis and Tom Waudby both had efforts before the break but it remained level at half time.
Ten minutes into the second half Taron Hare saw his shot from distance beat the keeper but it was cleared off the line by a defender.
A few half chances were exchanged between the sides but none came to fruition. The closest either side came to a winner was when Tom Davie chopped inside beating his defender, before a lob from distance bounced back off the crossbar.
It was penalties to settle the score. Davie stepped up first and scored. Mansfield scored their first before Harrison Coley missed his spot kick. Emery then saved the second penalty before Tom Waudby scored. Emery then saved again, putting Barton in the best position. Bateson scored his penalty with Manfield adding a second penalty. Emery then stepped up to take a penalty. He put it in the top left corner to win the shootout for the Swans.
1
2
3
4
5
Barton
Davie
⚽
Coley
❌
T.Waudby
⚽
Bateson
⚽
Emery
⚽
Mansfield
⚽
❌
❌
⚽