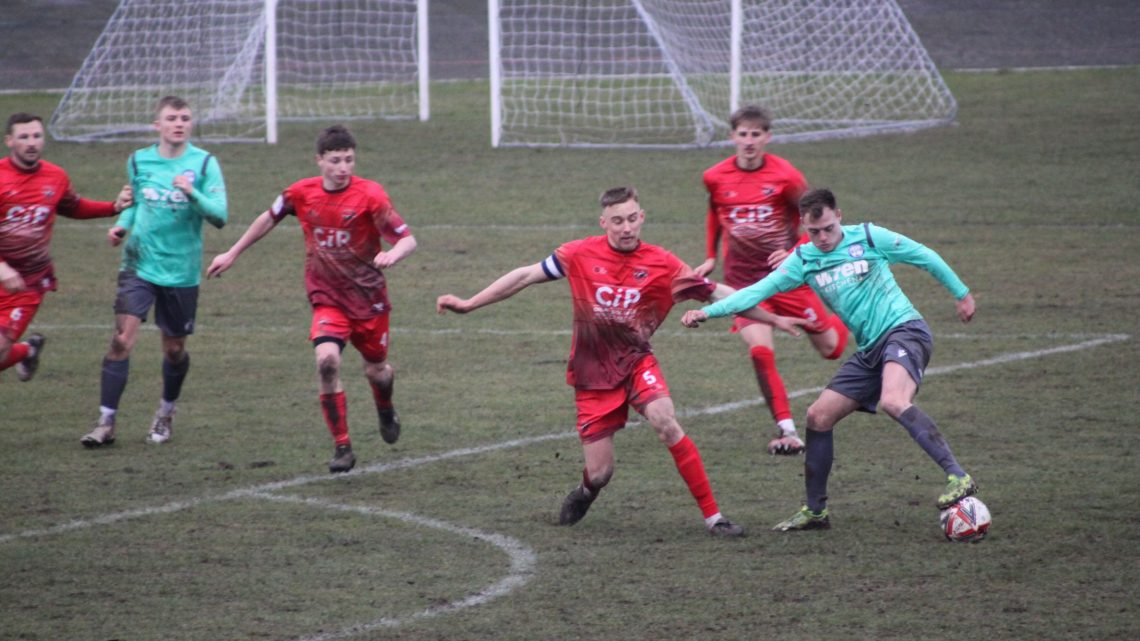 15 minute horror show ends Swans unbeaten run
13th February 2022
AFC Mansfield
4-2
Barton Town
Duggan 8, 22, 24, 25
Att: 57
Bateson 72
Hinchliffe 90
Barton Town's 18 game unbeaten run was undone in 15 minutes as the Swans conceded four goals to Ross Duggan and AFC Mansfield.
The striker, returning on Friday from Yorkshire Amateur, singlehandedly ended the Swans' unbeaten away record in the first half. Curtis Bateson and Ben Hinchliffe scored consolation goals for the Swans.
| | |
| --- | --- |
| # | Player |
| 1 | Mike Emery🟡 |
| 2 | Josh Lacey |
| 3 | Will Waudby 🔻Matthews 77 |
| 4 | Jack Tanser |
| 5 | Taron Hare (c) |
| 6 | Mitchell Levi-Lewis 🔻Vasalo 81 |
| 7 | Tom Waudby |
| 8 | Jamie Goddard 🔻Salter 70 |
| 9 | Ben Hinchliffe⚽ |
| 10 | Harrison Coley |
| 11 | Curtis Bateson⚽🟡 |
| | |
| 14 | Kian Salter 🔺Goddard 70 |
| 15 | Scott Matthews 🔺W, Waudby 77 |
| 16 | Elliott Vasalo 🔺Levi-Lewis 81 |
| 17 | Danny North |
| 18 | Nathan Jarman🟡 |
It was a cold and wet day at the Forest Town Arena, and the Swans were soon behind. Jack Tanser lost the ball and this led to a foul on the edge of the area. Up stepped Duggan who rifled his free kick low past Mike Emery.
Ten minutes later the referee missed a high boot on Tanser, waving play on as Duggan was played in. His off-balance shot from the right found the bottom left corner to put the hosts two up.
Seconds later it was three as Lacey was dispossessed and the ball played across the area to a receptive Duggan, who secured his hat-trick with a tap in. It was four soon after as Duggan turned onto his right foot, past Taron Hare, and rifled a shot past Emery at his near post to make it four after 25 minutes.
The Swans, reeling from the opening period, had a few chances to score before the break. Hare headed wide from a corner and Jamie Goddard volleyed an effort wide from close range.
The second half the Swans were dominant. Trying to restore some dignity, Bateson went close on the hour mark as he was played in but the goalkeeper scooped up the ball.
Ten minutes later Bateson netted his tenth goal of the season as he received the ball on the left, turned onto his right and curled a wonderful effort into the top corner.
Mansfield defended well and had won the game in that first 25 minutes. Ben Hinchliffe added a second goal for the Swans to minimise the damage to the goal difference as he slotted home a rebound. His 19th goal of the season.
The Swans' unbeaten run ends at 18 games, having not lost since a home defeat to Eccleshill in September. The first away defeat all season too. The next game is at Albion Sports next weekend as the Swans look to bounce back.