To celebrate our 25th anniversary of the merger between Barton Town and Barton Old Boys, we're taking a trip down memory lane and talking to former players who've played their part in our history.
Next up is Danny Eayres, who played for the Swans as well as having a successful stint as our Reserves manager.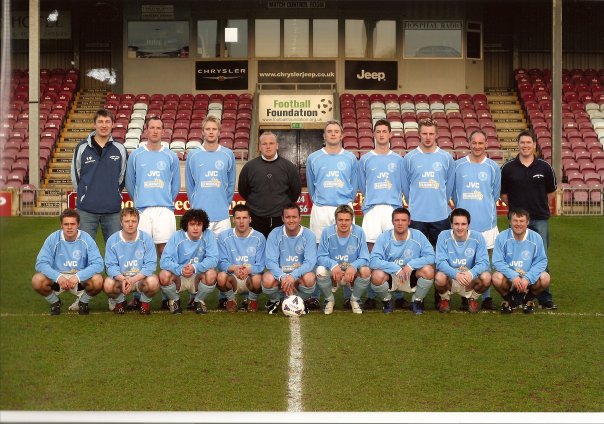 Could you tell us about how you signed for Barton Town Old Boys? How did it come about?
DE: "I first kicked a ball for the Club aged 15 in 1989. I was at the ground to watch a game as usual with my mates. The manager at the time – Trev Bell asked if I fancied putting a kit on to make up the numbers as they were a body short for a substitute. I think they were winning easily so Trev put me on at right back for the last ten minutes. I left school in 1990 aged 16 and signed for the 'Old Boys' that year. I went with the 1st team a few times mainly to make the numbers up and started playing for the Reserves the year after!"
What are some of your favourite memories of playing for the club?
"I've got so many memories playing for the Club and they are all good memories! Winning more games than we lost, always being in with a shout of silverware, the laughs, the team mates, Pete's legendary team talks and the 'One in – All in' attitude of each and every player will always stick in my mind!
"Winning the Quadruple in 94/95 season was a massive achievement for us with the players being predominantly local lads that enjoyed a laugh and a joke, a few pints afterwards and just happened to be decent at football… the team was made up of lads that all knew their job on the pitch and stuck to it… no individuals so to speak!
"As we moved up the leagues and on to the football Pyramid we looked forward to the Away days as much as the home games as the journey back on bus or mini-bus was always entertaining often stopping at Louth or Horncastle etc for a few beers and most often making it back to Barton for last orders!
"In my early days if we were away from home on a Saturday we'd meet at the Coach and Horses pub where some of the older lads would often have a couple of pints before we set off to play…. A real eye opener for me!"
As a captain of the club, how did you motivate the lads?
"When I was made captain the team was in very good shape to be fair with players coming in from Grimsby, Scunthorpe, Hull, Brigg, Winterton etc so motivation was never really an issue for me or the team… when you're winning games every week its easy to stay focussed and motivated. We also had a good mix of youth and experience and although the older lads were probably the biggest practical jokers in the side they were also the ones to keep everyone's feet on the ground!"
You had a great spell managing the reserves, did you prefer managing or playing?
"I retired through injury aged 30 I think and only played a handful of times after that when teams were short or were away at places like Swinefleet when some players had to 'work' that weekend???… at the time the Reserves were struggling for a manager and going through the motions in the league. Pete Mitchell approached me to see if I fancied taking charge for a few games and so I agreed. After a few weeks of encouragement shall we say, a few moans and groans and a couple of signings we started to find some form. The team went from strength to strength and we won the Scunthorpe 1ST Division and then went on to the Humber Premier League. I quite enjoyed my time in management but nothing compares to playing…. I'd still be managing now if it did!"
Any funny stories from your time at the club? (try and keep it clean!)
"I could tell lots of funny stories but most involve swearing or quite simply can't be put in to words. I hadn't been playing for the Club long and back in the day the home dressing room was open to all and sundry, often players' children would nip in at half time for a free drink of orange while Pete was giving one of his team talks ('pass it to someone in the same colour shirt lads') this particular day a young lad came in  for a drink – in those day we all shared a 5ltr bottle of orange or the likes – the young lad picked up a 5ltr bottle and started gulping the 'juice' down…. It was only when he started coughing and spluttering and Pete had stopped swearing at him that we noticed he was supping the oil the lads used to put on their legs!
"When we went in to Lincs League our 1st game was at home to the Champions from the previous season Wyberton FC – 5 minutes in to the game our left back and their right winger are running towards the ball for a 50/50, our full back forgets about the ball and a la Graham Souness takes out their winger at the waist, there player's in agony, his team mates and manger are going mad and our full back just shouts 'Welcome to Barton!!!'… we drew 4-4
"I remember getting sent off in a game for an 'off the ball' incident and Pete not being too happy about it as we had a Cup Final coming up at Glanford Park so Pete decided we appeal the sending off to buy us some time, eventually I had to go up in front of Lincs FA at the their  headquarters in Lincoln with the other player involved in the incident, the Referee that sent me off and a witness…. All went in my favour and my red card was rescinded somehow so I was available to play in the final at Glanford Park………… all was going well until I got sent off in that too and we lost 2-0 I think!"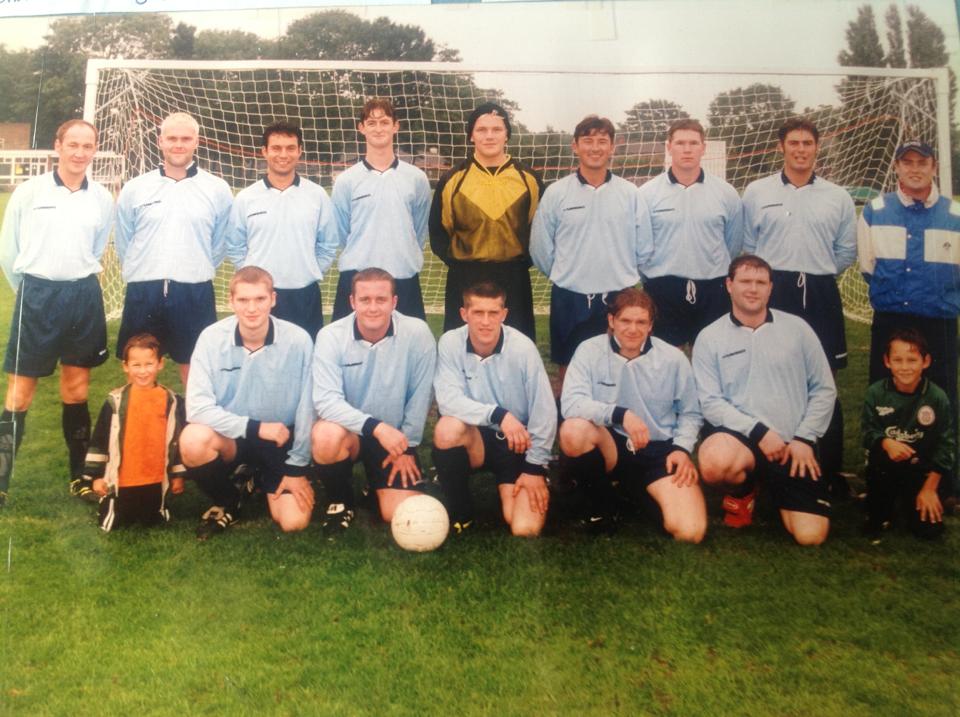 Has the club changed much in the 25 years since the merger?
"Although everyone involved in the Club back in the day put there heart and soul in to it I have to say the way the Club is run now, the image of the Club and the facilities available are superb compared to what we had back then – we had a dirty bath that had an inch of water in it and a 1st aid kit the comprised of a bucket, cold water a mucky sponge and some freeze spray!"
Who are some of the best players you've seen play for the club?
"I played with lots of great players at the Club too many to mention really and all very good at what they did and formed some great partnerships as a Central defender through the years with loads of very good players but I'd have to single out Steve Clay not only as a great player but the best I played with in regards to my development and game management… the fact I played in the same Sunday side helped although I never liked the constant bollockings! I'd also mention Neil Buckley a great player coming towards the end of his career and carrying me in games towards the end of my playing career…. And also mention Stuart 'Tot' Elliot who for the 100's of games I played with him always put in a 9/10 performance!"
Any additional comments?
"I'm still proud to have played for, scored for, won with and captained my hometown Club. I've made some great friends through football and the memories will last a lifetime!"
Our sincere thanks to Danny for taking the time to answer our questions and sharing his memories of the club with us.
The Old Boys Network – Danny Eayres