To celebrate our 25th anniversary of the merger between Barton Town and Barton Old Boys, we're taking a trip down memory lane and talking to former players who've played their part in our history.
Our next former player is Simon Hillman, a prolific striker for the club in our trophy winning 90's sides.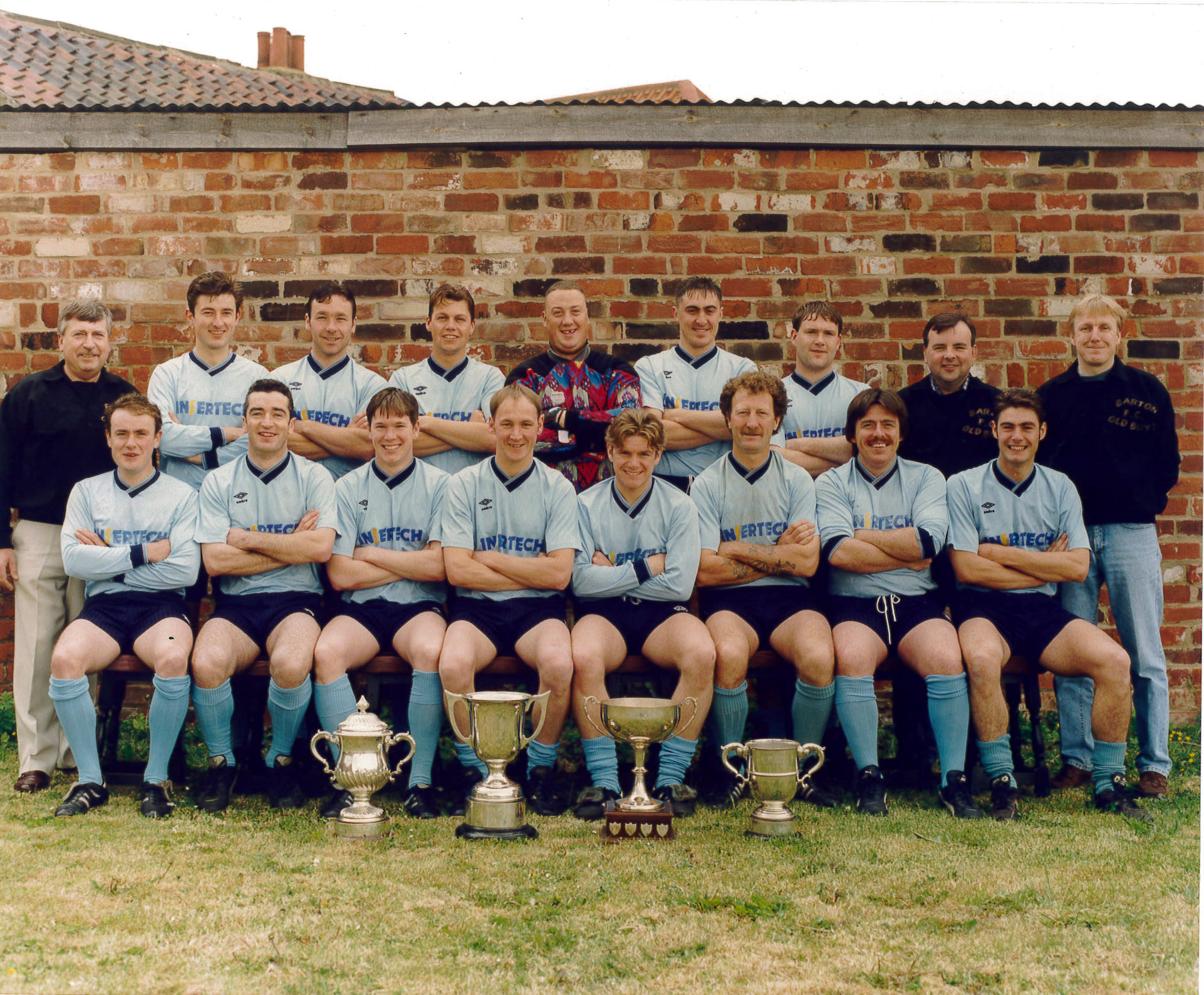 How did you sign for the club? How did it happen?
SH: "I was playing for New Holland Villa at the time, Pete Mitchell approached me to play for the club. After a couple of games in the reserves I went on the make my first team debut against Rod Mill, scoring twice and after that I remained in the first team."
What are some of your best memories from playing for Barton?
"Best memories are probably winning all the trophies. Apart from the silverware, the team had such a great core of local players of all ages and so many different characters that made for unbelievable craic on and off the pitch."
Any funny stories that you'd like to share?
"Probably the Wyberton cup game. Micky Cook scoring and the away supporters running on to the pitch diving on top of him as if we'd won the World Cup. To be fair there's too many stories, which was why the team was so great to play for."
Has the club changed much in the 25 years since the merger between Barton Town and Barton Old Boys?
"The facilities are great. Gone are the days of a wooden hut with a second hand TV in it, and one outside light that we used to train under when it was dark nights. One thing I must add is the club hasn't forgotten the old boys who used to watch years ago."
Who are some of the best players you played with during your time with the club?
"All were great players, I don't think Old Boys had a bad signing. Steve Clay, Leigh Palin, Neil Buckley all ex pros, but one of the best guys I had the privilege of playing alongside was David Mail. A great reader of the game and a gent in helping others with their game. Local lads Stuart Elliott, Paul Hodson, Jamie Adams, Paul Smaller, Micky Cook, Graham Fairbanks, Bob Wragg, Daz Bray, Sid Durnian, Russ Baker and Danny Eayres (£10 for this Danny!) were all links in great teams throughout the years."
As a striker, what was your record for most goals in a season?
"I can't remember which 2 seasons it was but I did win the Dean Cave trophy scoring 106 in 2 seasons."
Finally, I'm told you played centre back in your later years under Neil Buckley, did you prefer playing up front or at the back?
"I loved playing at the back with Neil, but he always insisted that he went up for corners, until I beat him in the headed goals from centre back."
Any additional comments?
"I hope the club goes from strength to strength, great facilities with some great staff behind the scenes. All the best for the season."
We'd like to thank Simon for taking the time to answer our questions and sharing his memories of the club with us.
The Old Boys Network – Simon Hillman