To celebrate our 25th anniversary of the merger between Barton Town and Barton Old Boys, we're taking a trip down memory lane and talking to former players who've played their part in our history.
Our next former player is Stuart 'Tot' Elliott, a box to box midfielder for the club in our trophy winning 90's sides.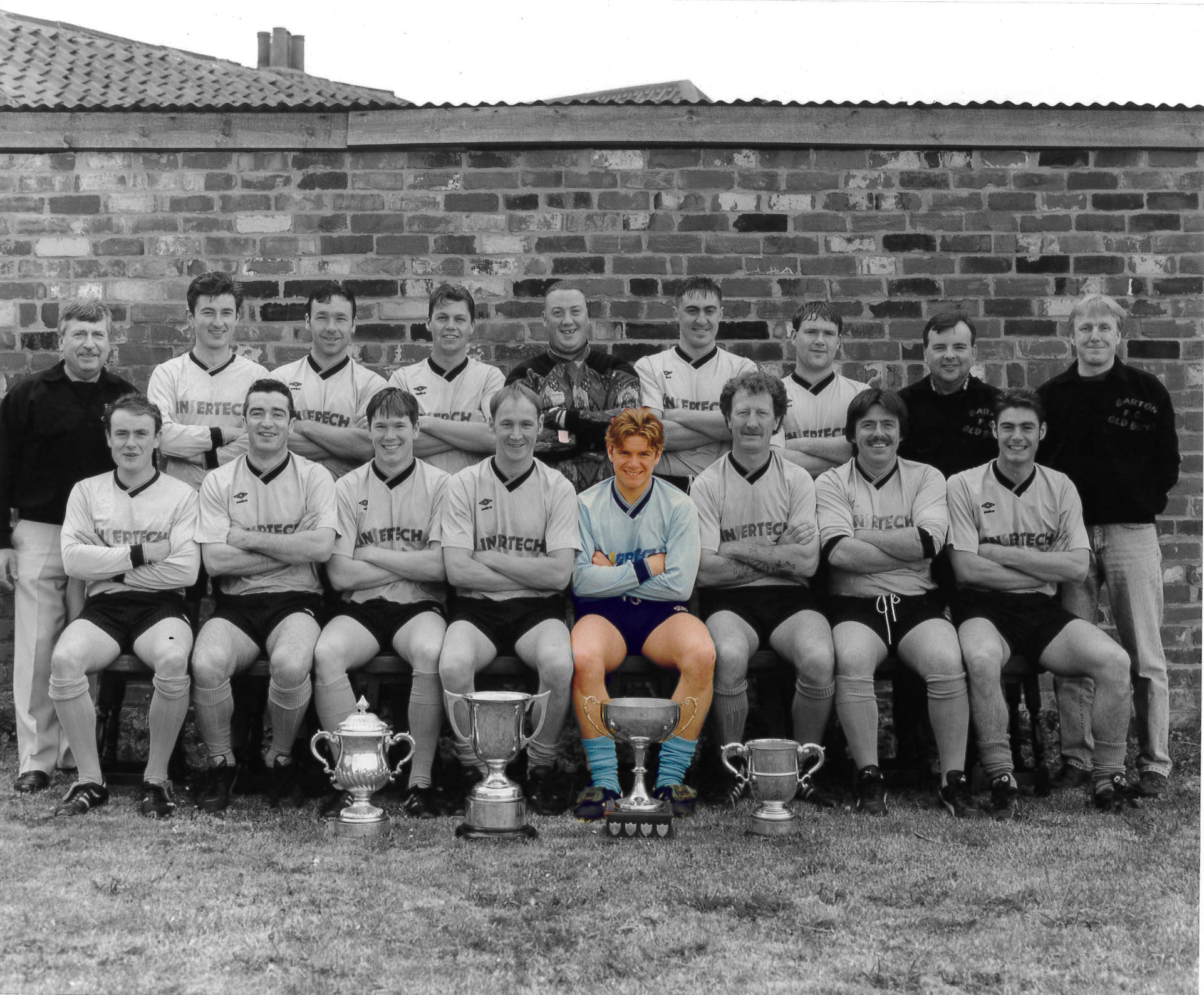 How did you sign for the Old Boys? How did it come about?
"I knew Pete from when my dad played for Old Boys but I had been playing for New Holland Villa for a couple of seasons with my old youth team manager Abbey Hillman, Simon's dad! Pete would often ask If I fancied joining but I thought I wasn't ready but then Gaz Salter was getting games who was a year older than me and Danny started playing as well so I thought I'd give it a go. I started in the reserves and had the odd game for the first team and didn't really think I was going to break into the team because they were winning all the time but I started playing for Russ Baker's Sunday team Winterton Rovers and I think he was badgering Pete about how I was playing for them and he gave me a stint playing in central midfield and I didn't really look back after that."
What are your greatest memories of playing for the club?
"My memories are all good! Just getting into the team that had blokes I really looked up to who I had watched my dad play with such as Graham (Podder) Fairbank, Bob Wragg, Russ Baker, Paul Staves and my old mate Steve Walker! We won a lot which was good, and at one point I think we won more matches at Glanford Park than Scunny did! We didn't have many seasons where we weren't challenging for something!"
Have you got any funny stories you can share with us? (Try to keep them at least a little clean!)
"It's not so funny but I broke my leg in a game at horn castle in a night game! It wasn't a bad tackle I just stretched for a tackle I shouldn't have gone for and the kid kicked through the ball and twisted it. I was taken into the changing rooms and was taking my socks off when the door burst open with the kid who'd broke my leg in the arms of two blokes looking worse than me! After the game Sid (Ian Durnian) came up to me with a big smile and said: "got him for you Tot did you see him" But if it wasn't Sid it would have been somebody else! It was just the togetherness in the team!
"But I have to say the early days when you got Podder, Wraggy, Cooky, Russ, Sid in the changing room before and after a game it was hilarious! I'd go to work all week just excited about getting in them changing rooms, you couldn't get a word in! We all just sat there in fits of laughter! great times!"
Has the club changed much in the 25 years since the clubs merged?
"The ground and the clubhouse have changed massively since our days! Sid was building it in my final year (which I'm not happy about and have told Pete on many occasions because I never got to play on it) as a kid I always wanted to try out the old baths what we had but didn't realise that only the first two inches of the water in them was actually hot! The new ground is fantastic, a lot better than the tin shake that the supporters had to sit in when we played!"
Who are some of the best players you played with while you were with us?
"For me I loved playing with the kids I grew up with like Danny Earyes, Simon Hillman, and Gaz Salter but as regards best players I'm thinking about players alongside me in midfield which would have to be Sid, Russ, Daz Bray and then you've got Carl Stead and Steve Carter in my later years but Leigh Palin was unbelievable. He was about 15 stone and well past his best but taught you so much about making space for yourself and others! I remember one game against Dinnington Town at the end of the season and it was FA Cup final day and a lot of our lads had gone to Wembley. We were away in Sheffield and they had won the league and we were second so took some fringes player and reserves and within about half an hour we were about 6-0 down! He went absolutely ballistic in the changing rooms and brought himself on in the second half and ran the show! Had me running all over the place making space for himself in the centre circle which he never really left but didn't have to they couldn't get near him! Also, a special mention to my brother Cadey who was a great player! (But should have been a hell of lot better than he was!) wish I had been born with his skill!"
Where did the nickname 'Tot' come from?
"I don't really know we're the name came from really, I had the name since I was really young. I think it's because I used to play with kids a lot older than me and was a lot smaller than them which is the only thing I can think of!"
You've been described as a 'box to box midfielder', but which did you prefer, defending or attacking?
"I have always liked to just follow the ball really and have been very lucky with the lads that I have played with! I liked a tackle and wouldn't have been any good in this day and age because it would have taken my game away really. I just used to get the ball and give it to somebody who could play and then run off and try and get on the end of it the other end of the pitch! I wasn't the most skilful, I think I probably scored more with head than with my feet at the end of it all!"
Any additional comments?
"I'd just like to thank Pete Mitch for everything with regards to my time with Barton he always was there for me when I played and without him I don't think the club would be where it is today. I remember as a boy him travelling to Scunthorpe to pick my dad up to play a game for Barton and he was the same with me picking me up at a building site in tetny just make sure I got to the game on time. The man would do anything to make sure the team had a chance of winning! I don't know how much influence he has of the club now but when I was there, he was massive!  I hope the club goes in the same direction in the next 25 years as it has with the last 25! Preferably with him in the background somewhere!"
We'd like to thank Tot for taking the time to answer our questions and sharing his memories of the club with us.
The Old Boys Network – Stuart 'Tot' Elliott