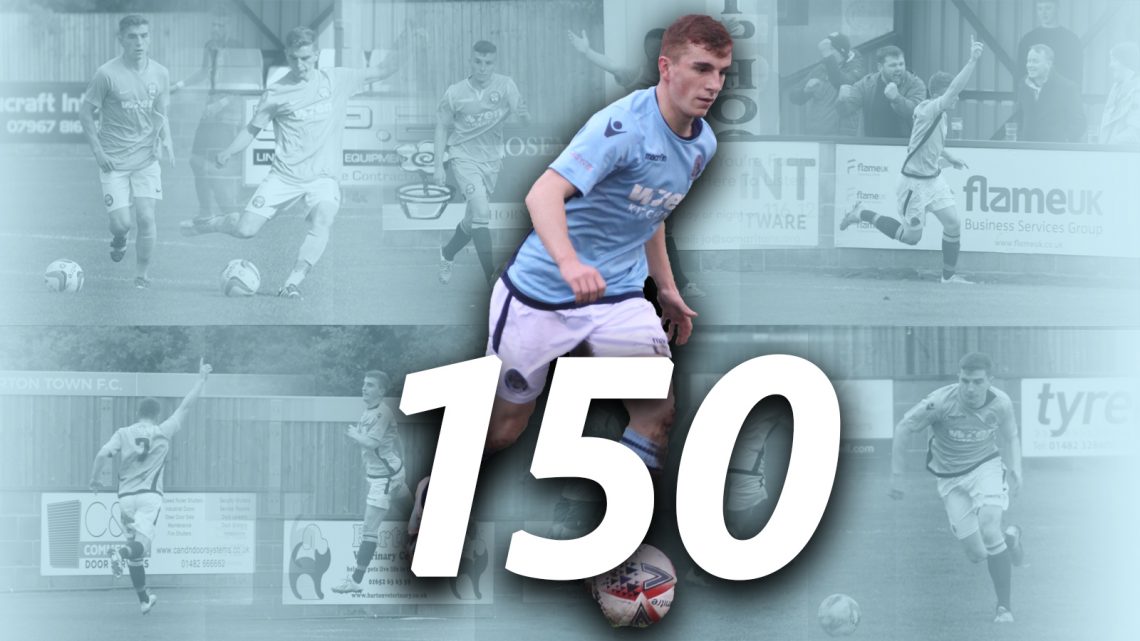 Tom Waudby – 150 Swans appearances
17th December 2021
The next time Tom Waudby steps onto the pitch for the Swans, it will be his 150th appearance for the club. This should be tomorrow's game against Silsden.
Consisting of 128 starts and 21 substitute appearances over five seasons, and 47 goals, Waudby is a fan favourite at the club.
He was Swans Chairman Mark Gregory's first signing, joining from Bridlington Town in September 2016, and was a key part of the side that kept the Swans in the NCEL Premier Division in 2018 under Dave Ricardo. In 2019 he left to return to Bridlington, before re-signing for the Swans in September 2021. Since then he's scored 12 goals in 22 appearances and is flourishing under current boss Nathan Jarman.
To celebrate the occasion, the Chairman called up Tom to have a quick chat and reflect on the 149 appearances he's made to date.
MG: "You were my first signing; did you ever think you'd make 150 appearances for the club?"
TW: "Yeah, I mean it's great to get there, I'll always do my best here, I enjoy it. If you enjoy your football and you've got a good Chairman behind you then you're always happy!"
What is it about Barton Town that makes you enjoy playing here?
"It's just a small club, everyone's absolutely perfect there. Everyone's really, really nice and that's what brings it all together. It's the people around the club that draw you in. To be fair we wouldn't be where we are if it wasn't for all the volunteers and officials. That's what draws me in, that's what makes the club a lot better for me."
In your 150 games what's been your favourite moment?
"It's hard to think… probably first signing. I was about 16, I think! So, it was a big thing for me to come to the club. Obviously, I was at Bridlington first and wasn't getting much game time and when I came to Barton you believed in me, and this is where I'm at now and it's got me to where I am. If it wasn't for you, I wouldn't be here."
In your opinion, we've had a few managers, who do you think has been the best you've played under?
"To be honest with you they've all been great. This is hard because I've gotten on with every single one of them. To be fair I really get on well with Jarmo, and I'm enjoying it, but I got on well with all of them. It's hard to pick a favourite, but I'm really enjoying my football under Nathan at the moment."
Who do you think are the best players you've played with at Barton?
"Wow…that's a tough one…Gary Bradshaw, he's up there, he was a great player. Just trying to think of who else…Ash Lattimore, he was a great player as well…and Gaz Barlow definitely."
…Yeah definitely agree with that…anyone in today's squad?
"…Yeah definitely, I'd say Hinchy (Ben Hinchliffe) is up there as well this year and he's progressing with every game."
With this run of form we're on, and this team we've got. We're in the second half of the season now, where do you think we can finish this season?
"Definitely top three, top two, maybe even pushing for the top if we keep winning the way we're doing now, we've got great spirit at the minute. A great spirit in the changing room, and playing football it's brilliant to watch, and to play obviously. I reckon we'll be up there challenging. We've just got to keep this run going."
What's your future? What's your ambitions in the game?
"To play as high as I can, that's all it is. But if I can take Barton with me that'd be great!"