The Old Boys Network – Jamie Adams
7th September 2020
To celebrate our 25th anniversary of the merger between Barton Town and Barton Old Boys, we're taking a trip down memory lane and talking to former players who've played their part in our history.
First up is Jamie Adams, a former goalkeeper who was our first Players' Player of the Year.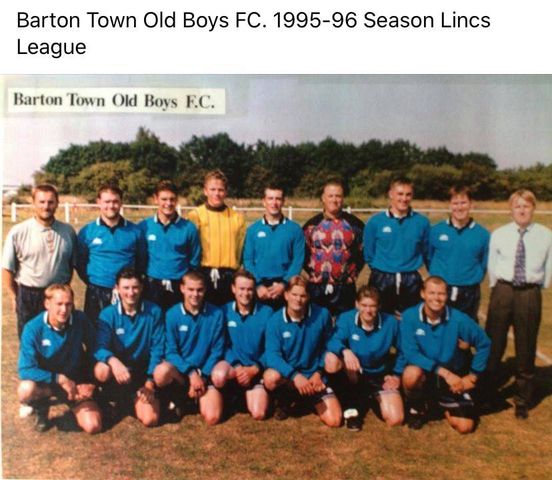 How did you come to play for the new BTOB team in 1995? Were you at one of the Barton teams already?
JA: "I am a Crowle lad born & bred so as a boy growing up to play for Crowle United was a huge ambition of mine which I achieved at the age of 18. Sadly in the next couple of years the Crowle side had began to decline from a top of Scunthorpe League 1 side to a mid to lower end team.
"At the end of the 1994-95 season our very last game saw us travel to the quadruple winners (League, Challenge Cup, Divisional Cup & Lincs Cup), the all concurring Scunthorpe League team Barton Old Boys. With 10 men & an eleventh made up from a lad going to buy a newspaper, I was fearing the worse as we arrived at Barton. Second half Barton led but only just when Pete Mitchell popped up behind my goal.
"We spoke as regards my plans for the next season & his dream for the newly formed Barton Town Old Boys starting with me joining. It was done instantly & I was sold to the ambitions & to be joining this great team. Mind I did question if he still wanted me as I conceded goals 3, 4, 5, 6 & 7 as we spoke. Thankfully Pete hadn't changed his mind!!!"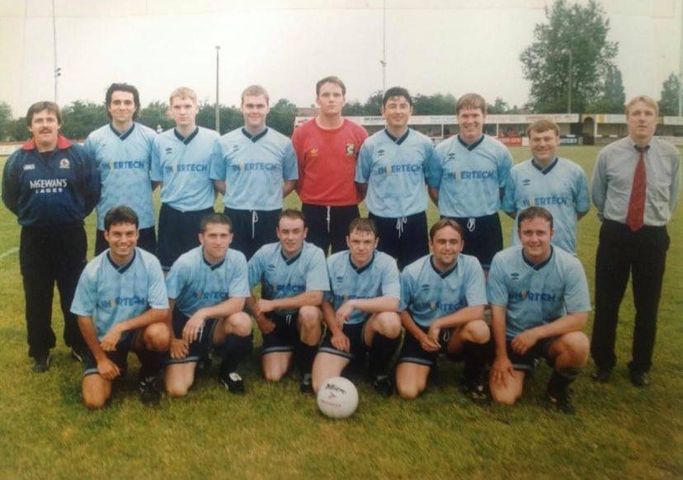 What are some of your favourite memories playing for Barton?
"Favourite memories are the trophies we won. Lincs Senior B in the first season & the league, Challenge cup double in my second season. I would say though my greatest memory & achievement personally is winning the 'Players' Player of the Year' in my & the teams first season.
"When I joined in the summer of '95 Pete stayed loyal to his previous goalkeeper for the first half dozen games meaning I was either a unused sub or playing back at Crowle United for some fitness. With Barton TOB joint bottom after 6 games & without a win the call came & I made my debut against fellow strugglers Nettleham.
"We drew that away game 1-1 but won 14 out of the next 15 games to propel us to the top 6 of the league, not only down to me but the team finding its form in the Lincs League. When it came to the presentation evening at the end of the 95-96 season & I took the award it was as if not only did I respect them but they respected me & it meant everything."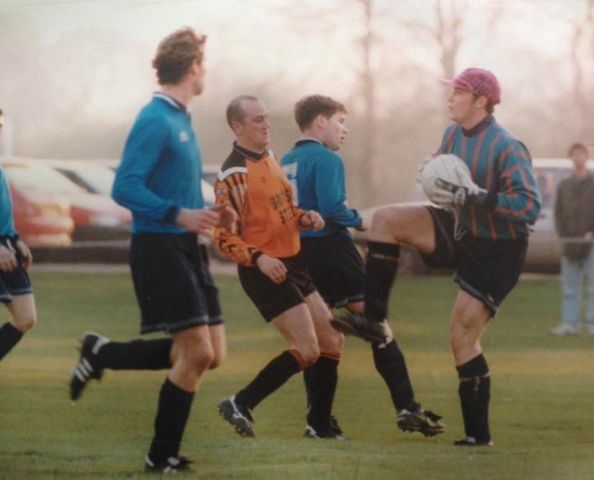 Any funny stories from your time at the club?
"A few funnies, late in my first season 95-96 we travelled away to my neighbours Epworth Town who were a mid table side at best. I was desperate to win especially when my parents, my girlfriend & future mother in law all turned to support me. Midway through the second half & us comfortably winning we were awarded a penalty when I get the 'it's yours' from Pete Mitchell. With all eyes on me especially being a Crowle lad with family on the side……..I missed!!!! Thankfully for me Barton scored the rebound but despite winning 8 0 and keeping a clean sheet the damage was done!
"The very last game of the first season we travelled Boston United to play the reserves and with fourth place guaranteed, the game was more of a hindrance as we as players were looking forward more the celebrations after the game on another of our famous bus trips! As we arrived at York Street I can remember a few us being starving so we ventured off to fuel up, regrettably we headed straight to the chippy. Ever tried diving around on a full fish supper on a hot April afternoon? It just didn't happen as we got hammered 4:0!!! Lesson learned.
"We returned to York Street the season after again to play Boston United Reserves when in the warm up we noticed at the back of the stand in the home end a DJ spinning his vinyls for the arriving spectators. Someone decided it would be a great idea to see who could get a ball through his hatch & guess who managed it…… yours truly!!!
"It was one of them that as soon as it left my boot I thought I'm in with a chance & bingo the DJ had to duck for cover as a size 5 ball flew in. Chest out & proud I hadn't noticed Pete Mitchell behind me who gave me a polite rollicking!!!!
"Last one was again in my second season, 96-97 when we travelled to Nettleham away for a midweek game under the lights. Nettleham lights were awful, low & barely reaching the middle of the pitch but fast forward to last few minutes & again comfortably winning 3:0 they broke. With a Nettleham striker taking aim centre of the goal & me wanting to keep my clean sheet I stood in anticipation when as the ball left his foot I lost the ball totally, gone & for a split second I hadn't a clue where it was when…….. boom it hit me full on the forehead sending me falling to the floor rather theatrically it has to be said. All I heard as the ball was cleared & the clean sheet kept intact was huge laughter from my teammates as I picked myself up!!!
"On our legendary away bus trips which basically meant drinking & cigars all night we used to have an awful club jacket & tie, bought for about £3 at a charity shop for a laugh & awarded to the worst player of the day to wear all night. One away trip to Skegness in the 97-98 season we'd won the game 4:1 & to be fair nobody had had a poor game so we'd all avoided the dreaded award. Then the food came out in the clubhouse post game & whilst I was at the bar waiting for a drink I was asked by the home team to carry the bread rolls over to our team. Now as a goalkeeper I shouldn't ever drop them so guess what happened…….
I dropped them everywhere & as a result was awarded the hideous jacket & tie to wear!"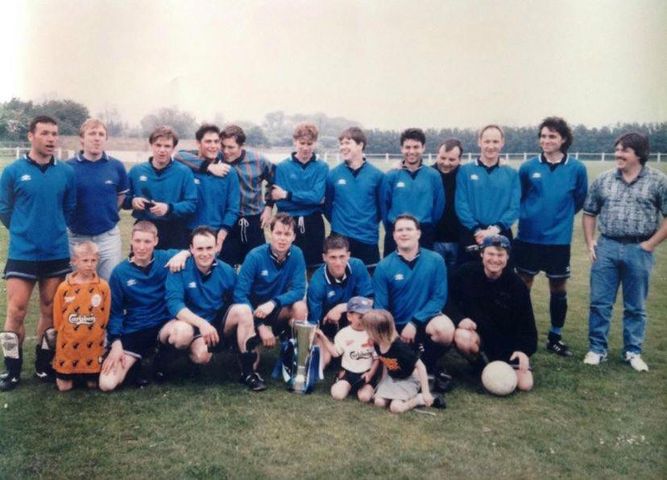 Has the club changed much in the 25 years since that first game?
"Has the club changed…… Well the warm ups have. It used to be all outfield players taking shots at me with as many balls as possible for about twenty minutes!!!! I used to look at the opposition as they warmed up, stretching & jogging, stood in circles doing a routine where as it was a free for all at me!!!
"The facilities have certainly improved. 25 years ago post game it was a large bath, one per team but obviously if you were one of the last ones in you were washing in mucky sometimes bloody water. You were cleaner going in than coming out!!!! One bucket to share for washing hair & water never deeper than yours legs, the joys of showers now. Pete always had ambitions of floodlights, new better clubhouse & facilities so to see them now its brilliant.
"When we were playing there was obviously no social media so catching up on results & news was old school. We used to have a reporter who'd ring in to the Scunthorpe Telegraph at half time for a section in the Sports Telegraph which came out late Saturday night. I used to get home & go on teletext as the Lincs League had a page in the non league results but sometimes you'd be waiting ages as there was that many league results coming through. Failing teletext I'd buy a Mail on Sunday as Lincs League results would be on results page. Facebook & Twitter makes things a lot easier!!!"
Top 3 Barton players you played with?
"As for my favourite players, I'm going to say this, everyone who I played with during my 4 season at Barton TOB I hold in the highest regards but I will single out one player who for me is the best player I ever played with, Steve Clay. He joined at the same time as me as we were the only 2 additions to the team for the beginning of the 1995-96 season. He joined on loan from Brigg Town & played either centre half & centre midfield. Unfortunately for Barton towards the end of the season & with Brigg in the semi finals of the FA Vase he returned to his parent club & made the bench as they collected the trophy at the old Wembley. A top man both on & off the field."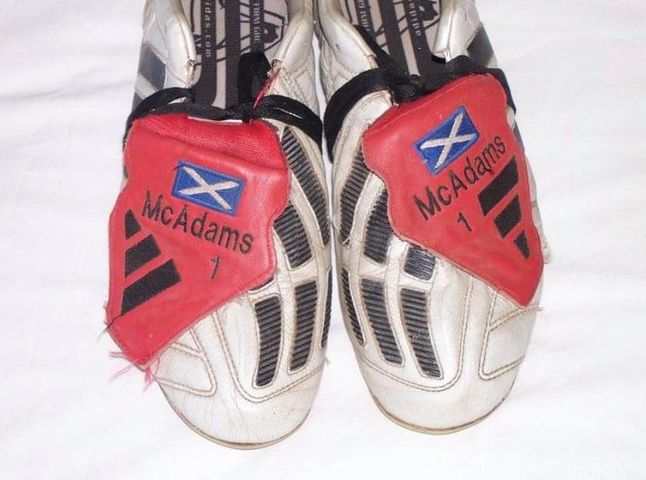 Any other stories or comments?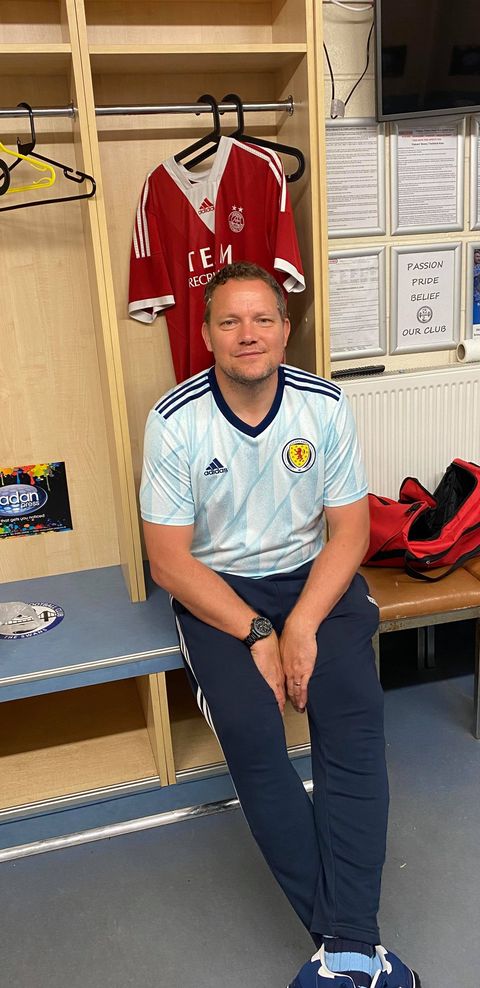 "During my first season at Barton I unfortunately got injured playing Sunday league & spent Christmas '95 on crutches. Thankfully for me the winter was that bad I missed about two games as many matches were postponed. Pete Mitchell decided to aid my recovery by paying for physiotherapy on my sprained ankle.
"At that time Scunthorpe United had opened up its facilities out of hours so I got in touch & made an appointment. What followed was several weeks on one on one with then physiotherapist Nigel Adkins. Him himself a former goalkeeper we spoke at great length in my recovery & then fast forward several years he was a premier league manager with Southampton!!!! My claim to fame!
"Finally I will add being Scottish Barton gave me the nickname 'McAdams' which I still use & get called to this day. I had boots & shirts personalised & even during my playing days wore tartan tie ups given to me by Ian Durnian. Absolute fantastic times which a knee injury tragically cut short finishing my playing days at Barton calling it a day after 4 seasons at the end of 1998-99. I'm still in touch with Pete & see him a couple of times a year on Tuesday games (as I work Saturdays) I'm hopeful of coming over at the end of the month for the Handsworth game on a Tuesday."
We'd like to thank Jamie for this interview and for the pictures he sent in. If any other former players would like to share any stories or questions then please get in touch with us. We'd love to hear them.