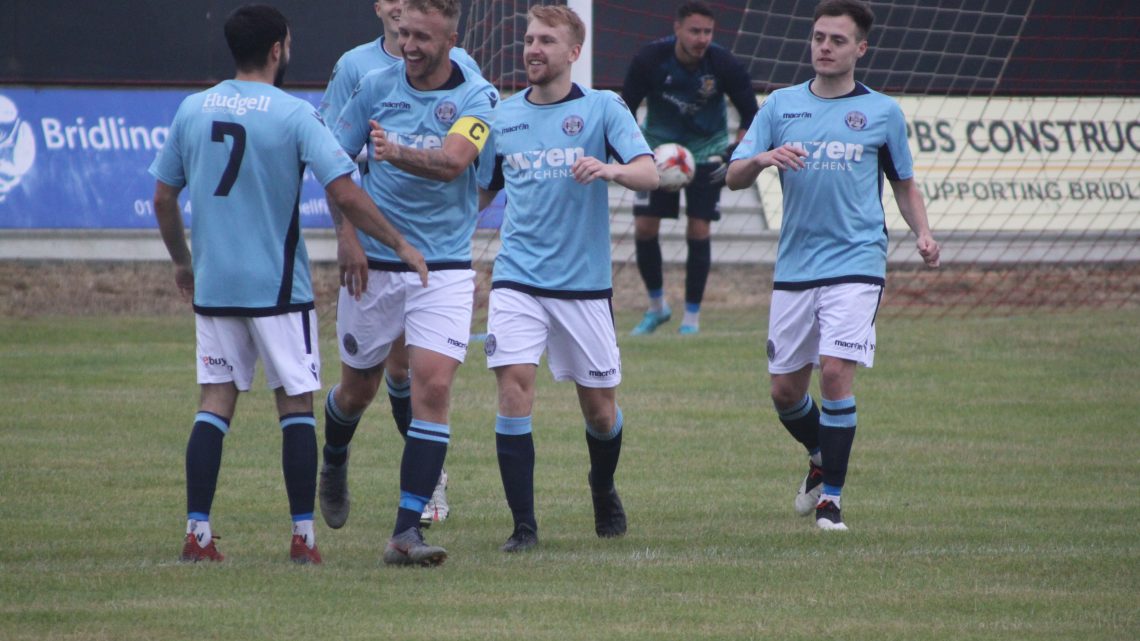 Bridlington Town 1-1 Swans – Decent first outing for Jarman's Swans
5th July 2021
Barton Town's first friendly outing of the season ended in a 1-1 draw with Bridlington Town at Queensgate.
Swans skipper Taron Hare gave Barton the lead after six minutes before Bridlington Player-Manager Brett Agnew equalised midway through the first half.
| | |
| --- | --- |
| # | Player |
| 1 | Charlie Dixon |
| 2 | Grant Tait |
| 3 | Scott Matthews |
| 4 | Josh Baker |
| 5 | Josh Lacey |
| 6 | Taron Hare ⚽ |
| 7 | Curtis Bateson |
| 8 | Jamie Goddard |
| 9 | Ben Hinchliffe |
| 10 | Joe Simpson |
| 11 | Noel Burdett |
| 12 | Trialist |
| 14 | Jack Varley |
| 15 | Harrison Coley |
| 16 | Tom Davie |
| 17 | Trialist |
The Swans looked the more comfortable at kick off and it showed when we won a free kick on the left side after five minutes. Curtis Bateson stepped up and swung a ball into the area which Taron Hare headed past James Hitchcock to give the Swans an early lead.
It was a well contested game, and with it being Bridlington Town's first pre-season game too, both teams were in the same situation.
The Swans nearly made it two on 18 minutes when Ben Hinchliffe controlled the ball in the area, but his shot was straight at Hitchcock and cleared.
We were made to pay soon after when Seasiders manager Brett Agnew dispossessed our defender and slotted the ball past Charlie Dixon to equalize for the hosts.
The goal seemed to wake Bridlington up as their number 11 rounded Dixon and thought he'd scored, only for Josh Lacey to clear the ball off the line to keep the score at 1-1.
New Swans signing Curtis Bateson caught the eye, and very nearly scored when he curled a nice effort which hit the crossbar.
Bridlington striker Danny Earl had a few chances in the second half, including going one on one with Dixon but screwing his shot wide. However he was handed a golden chance to score midway through the second half.
The Swans gave away a penalty and Earl was tasked with the penalty. He hit a low effort to his left which Dixon was equal to and pulled off a nice save. Earl got to the rebound but Dixon saved again before it was cleared.
The Swans come away from the seaside with some positives and inevitably some things for new boss Nathan Jarman to work on.